The Transtition Town Process is based on the framework of Transition Town Initiatives, set out in The Transition Handbook, by Rob Hopkins.
See also: Transition Carrboro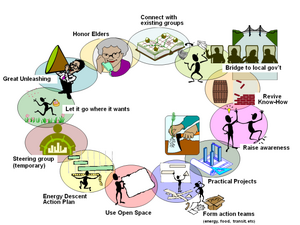 Advantages of the Transition Town process
Edit
Some things that are uniquely useful about this approach to making change:
• It is a positive, collective vision for something rather than a negative struggle against something. There should be lots to celebrate!
• It is comprehensive in nature; it can identify aspects of our community that need more energy/activism, and there's room for everyone's interests & skills
• It is a unification of many people/groups towards an end goal (manifested in part by an Energy Descent Action Plan and its implementation)
• It doesn't forget to address people's psychological needs as they awaken to the reality of the environmental crisis & peak oil
Process steps
Edit
Here's how the process looks, approximately:
Steering Committe work
Edit
The steering committee does the legwork for consciousness-raising events such as film screenings and discussions on peak oil, climate change, and other pertinent issues. We will also try to get to know as many groups in town as possible and ally or partner with those that are interested in our efforts.
Great Unleashing
Edit
We will hold a Great Unleashing, the official launch of the Transition Initiative, and generate energy among community members for participation in the process via open space (group brainstorming) days and action groups around various topics like energy, food, transportation, housing, health, etc.
Action Groups
Edit
Action groups will meet to discuss and execute projects, as well as get detailed about how their area fits into the community's Energy Descent Action Plan.
Re-Skilling
Edit
We will hold (or collaborate with existing groups for) re-skilling workshops to re-equip ourselves for a more locally resilient future.
Reaching Out
Edit
We will work with local government. We will honor our elders by hearing what they have to say about a more locally resilient past. We will let the process go where it wants to go.
We will create and implement an Energy Descent Action Plan.
Celebrate
Edit
We will remember to celebrate the progress we are making!
Ad blocker interference detected!
Wikia is a free-to-use site that makes money from advertising. We have a modified experience for viewers using ad blockers

Wikia is not accessible if you've made further modifications. Remove the custom ad blocker rule(s) and the page will load as expected.