Here you can find planting plans for 2008.
Fall Vegetable Planting 2008
Edit
Fall 2008 Plants
Edit
A list of the most recent/current crop by bed. Question marks by themselves are unknown. Crops followed by a ? are uncertain - confirmation needed.
Section A
Edit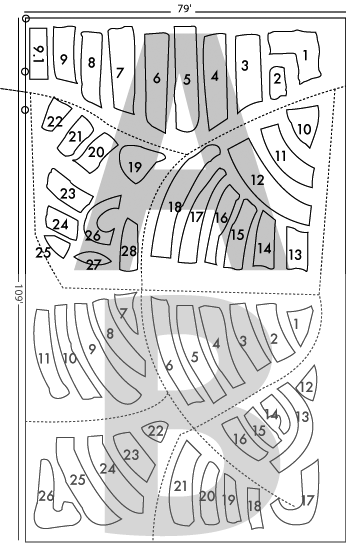 Flowers
Turnip
Lufa
Beets
Radish? / Carrots
Lettuce (current)
Collards
Tomatoes
Turnips?
Rosemary / Oregano
Winter Squash
Kale
Dill / Cilantro / Parsley
?
Bush Beans
Vetch
Beets
Carrots
?
Radish?
?
Radish?
Leeks
Leeks
Basil
Strawberries (transplanted)
Flowers?
Okra
9.1 ? 9.2 ?
Section B
Edit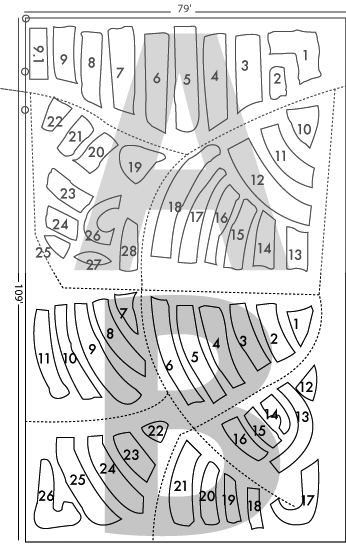 ?
?
Arugala (current)
Garlic (current)
Spinach (current)
Okra
?
Sweet Potatoes
Garlic (current)
Cucumbers
Sweet Potatoes
watermellon
watermellon
Spinach (current) / Parsley
Chard
?
Perrenials
Beets
Daikons
Mixed Greens (current) / ?
Peppers
Flowers
Strawberries (current)
Strawberries (current)
Tomatoes
?

KEY
Bed color is this season's recomendation.
Bed List is colored:

a) Name of current plant there
b) Number is color coded by plant that was there last season.
Late July
Edit
Early August
Edit
Snap Beans
Arugula
Kale A13
Mustard
Dill B13
Mid-August
Edit
Collards B13
Broccoli (transplant)
Cabbage (transplant)B5
Pac Choi (transplant)
Brussel Sprouts (transplant)
Green Onions (transplant)
Chard B15 (From Summer)
Early September
Edit
Salad Mix B4
Carrots A7
Beets A4 & B18
Parsley A13
Radish A20 & A22
Summer Vegetable Planting 2008
Edit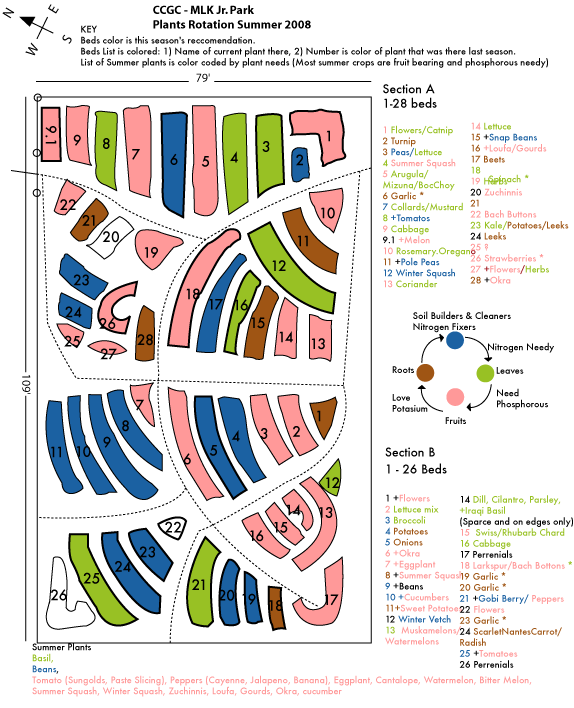 Mid-April
Edit
Basil
Tomatoes

Sungolds
Paste
Slicing (Non hybrid)
Early May
Edit
peppers
eggplant
beans
cucumbers
cantaloupe
watermelon
Bitter Melon
summer squash
winter squash
zuchinnis
okra
loufa
Edamame
Gourds
Flowers
Ad blocker interference detected!
Wikia is a free-to-use site that makes money from advertising. We have a modified experience for viewers using ad blockers

Wikia is not accessible if you've made further modifications. Remove the custom ad blocker rule(s) and the page will load as expected.